All Blog Entries by Chris Rooker
There are currently 3 blog entries published by Chris Rooker.
Monday, April 9th, 2012 at 11:12am. 4,359 Views, 0 Comments.
Teams are becoming increasingly common in the real estate business. Each person on our team has a role, and our team leader, Chris Rooker, has put us all together with a strategic plan for providing our clients with the best possible service. Our team works like a machine. Real estate is a business that includes more than just "people skills." It requires administrative, marketing, networking, and negotiating skills as well.
For buyers, we do property searches, showings, write offers, negotiate deals, ensure all loan requirements are met, make sure all parties involved (i.e. mortgage broker, attorney, listing agent, etc.) are on task, bring the deal to closing, and follow up after they've moved into their new home to make sure they had a positive
…
Monday, April 9th, 2012 at 10:52am. 11,521 Views, 1 Comments.
Before putting your home on the market, it is important to get your house ready to sell. (After putting your house on the market, we'll give you some tips for keeping your house sparkling for showings. That will be part two.) Run down this list of items to prepare your home for the market, and make sure each item is completed before the official listing date.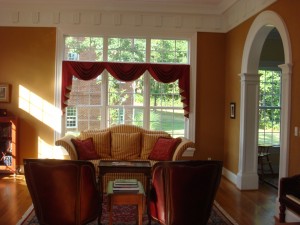 Disassociate Yourself with Your Home
Take on the attitude now that this home will not be yours for much longer. Look toward the future!
De-Personalize
Put away your personal items now (picture frames, family heirlooms, etc.). You want buyers to imagine themselves in the house, and it is difficult to do that if your personal items are in the way.
De-Clutter
Now is a great time to
…
Friday, April 6th, 2012 at 3:25pm. 446 Views, 0 Comments.
Check out our latest posts over at Harrisonblog!
Harrisonblog:
People, Places, Events, and Issues in Harrisonburg
(with an emphasis on real estate)